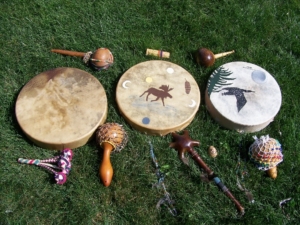 (Meets the third Sunday of every month: 1 pm-2:30 pm.)
No experience necessary.
This is an experiential shamanic journeying circle!
Shamanism is not a religion. It is a path of direct revelation.
Shamanic journeying is a system or technique used to gain direct contact with our wise and loving compassionate helping spirits for purposes of guidance, divination, problem solving and healing.
During this sacred circle you will learn how to enter an altered state of consciousness and experience the spiritual dimension of nonordinary reality, where you will meet and work with your compassionate helping spirits. This will be accomplished through specific guidance and repetitive drumming provided by the facilitator.
Please note: There will be periods of drumming/rattling by all circle members during the session, but this is not a dedicated drumming circle.
Please bring:
–a drum and/or a rattle, if you have them;
–a pad and pen to record your journey experiences;
-a bandanna or other eye cover, if desired;
-a blanket or large towel to lie down on while journeying, if desired.
Price: Free. (But heartfelt donations to our wonderful Chapel are vital, welcome and greatly appreciated!)
Blessings to you all!
Mike Duggan (Shamanic practitioner)